Luleå Airport's mission is to meet the needs of residents and businesses in the region for flights and goods transport.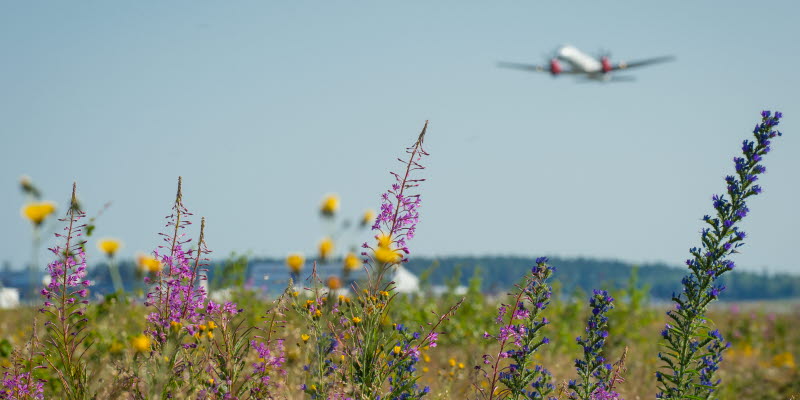 Luleå Airport works in a number of areas to minimise the negative environmental impact of its operations, mainly by reducing carbon dioxide emissions, reducing other atmospheric emissions and discharges to water, and minimising the use of chemicals and the generation of waste.
In order to achieve this, it requires that we work based on the following fundamental rules:
Concern for the environment shall be an integral part of all operations and be a factor in all decisions.
Climate change is the most important environmental issue for the aviation industry and shall be given priority in all decisions and activities.
We shall continually make operations more energy-efficient and guide operations towards sustainable resource use.
We shall purchase energy-efficient products and services and encourage construction that leads to better energy performance.
All of Swedavia's employees shall take part in the company's environmental and energy work.
We shall systematically assess and manage environmental risks and energy performance.
Swedavia shall participate actively in local, regional, national and international efforts in order to reduce the negative environmental impact from aviation and work for the sustainable development of the airports.
Environmental permit
Operations at Luleå Airport comply with the Swedish Armed Forces' environmental permit for the Norrbotten Wing (F21) of the Swedish Air Force. The regulatory authority for civil aviation operations under the Swedish Environmental Code is the Municipality of Luleå.
The operations subject to the airport's environmental permit involve the production of take-off and landing services. The Swedish Armed Forces have a permit for 39,000 civil aircraft movements a year in accordance with the Swedish National Licensing Board for Environmental Protection's decision dated April 3, 1995.
Environmental management system
Work is continuously carried out at Luleå Airport to reduce the environmental impact of operations, and the airport places great emphasis on working with environmental issues in a structured, systematic way.
Luleå Airport has been certified for its environmental performance in accordance with ISO 14 001 standards since the spring of 2012. This certification indicates that the airport not only complies with the requirements of environmental authorities but also with the general and specific environmental goals set for Luleå Airport.
Both internal and external environmental audits are carried out at the airport. The aim of these audits is to check whether the environmental management system is used, is sufficient and is effective. There is continuous improvement work under way, with increasingly stringent requirements, which means environmental goals are also raised every year.
In May 2012, all of Swedavia's airports were certified for their environmental performance under a Group-wide environmental management system in accordance with ISO 14001 standards.
Aviation is an efficient transport mode that among other things helps businesses, which strengthens the economy, while also giving people the opportunity to travel. But aviation also has a negative environmental impact. Luleå Airport works systematically to try to reduce the impact from its own operations and also influence other companies and organisations operating at the airport.
Operations at the airport affect the environment in many ways, including through atmospheric emissions and discharges to the ground and water. Operations also give rise to both non-hazardous and hazardous waste as a result of the use of chemicals and chemical products in operations.
Air
The biggest atmospheric emissions around Luleå Airport come from air traffic and from road traffic to and from the airport. Atmospheric emissions consist mostly of carbon dioxide (CO2), hydrocarbon (HC), nitrogen oxides (NOx) and sulphur dioxide (SO2). Carbon dioxide is a greenhouse gas that contributes to global warming, while nitrogen oxides lead to eutrophication (excess fertilisation), to algal blooms and overgrown vegetation in waterways. Sulphur dioxide emissions lead to the acidification of soil and water.
To encourage airlines to use modern aircraft, which are better for the environment, Swedavia has introduced a price system in which take-off charges at the airports are lower the cleaner an aircraft's engines are.
Swedavia also works in partnership with the municipal bus service, Luleå Lokaltrafik, to improve mass transit to and from the airport. Luleå Airport has been included in Luleå Lokaltrafik's scheduled service since October 2013.
All buildings are heated using district heating.
Soil and water
Discharges to soil and water mostly involve glycol (monopropylene glycol) from the de-icing of aircraft. Glycol breaks down easily in nature but has a high oxygen depletion rate when it decomposes and may therefore cause oxygen depletion in waterways and groundwater if large quantities are discharged.
Most de-icing takes place on a dedicated de-icing apron, where glycol is collected and conveyed via a drainage system to the nearby glycol recycling facility. The spilt glycol is purified in the glycol recycling facility and reduced using evaporation so that the resulting product is 99 per cent glycol, which can then be used in the chemicals industry. Operation and staffing of the glycol recycling facility have been handled by a contractor since early 2013.
Waste
Waste, both hazardous and non-hazardous, is produced in operations. A lot of the waste produced at the airport is a resource that can be reused, recycled or used in energy recovery. Hazardous waste is handled separately so that toxic substances are not spread.
There is a sorting area at the security checkpoint at Luleå Airport, where passengers have the opportunity to sort their waste, which includes containers with a redeemable deposit, cans containing propellants (aerosols) and other combustible materials.
Combustible waste is burnt at the Boden power station and provides district heating, while newspapers, cardboard and paperboard are recycled.
Our zero vision
In 2020, Swedavia reached its goal of zero fossil carbon dioxide emissions from its own airport operations.
There is extensive work behind our success in achieving zero fossil carbon dioxide emissions. We purchase green electricity for all of our operations, our uninterruptible power supply runs on hydrotreated vegetable oil (HVO), our vehicle fleet runs on HVO, fossil-free gas or green electricity, and we purchase biogasol and biogas.
Read more about our work with our zero emissions goal, what else we do and what you can do to contribute to aviation's transition to net zero operations.

Expanded climate work
All of Swedavia's airports are accredited at the ACA 3+ level in accordance with Airport Council International (ACI) Europe's standards for the climate work of airports. That means our airports continuously reduce fossil carbon dioxide emissions from their own operations, offset the emissions that have not yet been reduced and help other businesses operating at the airports to reduce their emissions. At the end of 2020, we achieved our goal of zero fossil carbon dioxide emissions for the airport operations run under our own management. 
The next goal is to have all the airports accredited at the ACA 4+ level, which means that agents for de-icing runways/aircraft and coolants will be included in the measurements. We shall also work to a greater extent to engage and work together with other companies and organisations that have significant carbon dioxide emissions at the airports in order to continue reducing emissions together. Over time, all the operations at our airports will switch to renewable energy sources. This work is in line with the Intergovernmental Panel on Climate Change's goal not to exceed a 1.5 C degree rise in global warming as well as Swedavia's strategy and goals for proactive climate change adaptation.
For information about aircraft movements, Swedavia currently suggests that people use public tools such as Flightradar24.com.
The Webtrak tool that we previously made available here on our website is being reviewed, and we are exploring the possibilities of using other data sources. This is in order to once again enable people living in the vicinity of our airports to track air traffic movements. It will also be possible to connect this information to aviation noise measurements where available.