Environmental issues are a priority at Swedavia, and Stockholm Arlanda Airport works continuously in a number of different areas to reduce its environmental impact.
The climate has long been a prioritised issue for Swedavia and our airports, and our efforts have yielded results.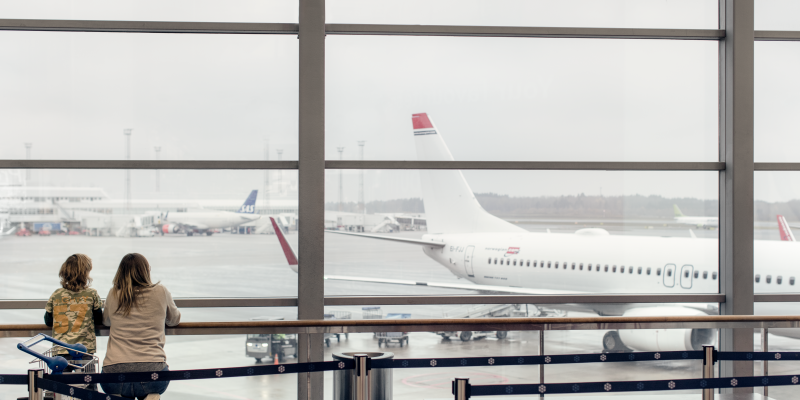 Our zero vision
In 2020, Swedavia achieved the company's goal of no fossil carbon dioxide emissions from airport operations run under our own management.
Extensive work underpins our success in achieving zero fossil carbon dioxide emissions. We purchase green electricity for all our operations, the back-up power supply runs on hydrotreated vegetable oil (HVO), our vehicle fleet runs on HVO, fossil-free gas or green electricity, and we purchase liquefied petroleum gas (biogasol) and biogas.
Read more about our zero vision work, what else we do and what you can do to contribute to the transition to net-zero aviation.
Expanded climate work
All of Swedavia's airports are accredited at the ACA 3+ level in accordance with Airport Council International (ACI) Europe's standards for the climate work of airports. That means our airports continuously reduce fossil carbon dioxide emissions from their own operations, offset the emissions that have not yet been reduced and help other businesses operating at the airports to reduce their emissions. At the end of 2020, we achieved our fossil carbon dioxide emissions goal for airport operations run under our own management.
The next goal is to have all the airports accredited at the ACA 4+ level, which means that compounds to de-ice runways/aircraft and coolants are to be included in the measurements. We shall also work to a greater extent to engage and work together with other companies and organisations that have significant carbon dioxide emissions at the airports in order to continue reducing emissions together. Over time, all the operations at our airports will switch to renewable energy sources. This work is in line with the International Panel on Climate Change's goal not to exceed a 1.5 degree rise in global warming as well as Swedavia's strategy and goals for proactive climate change adaptation.
Facts about Airport Carbon Accreditation (ACA)
Airport Carbon Accreditation is a framework within Airport Council International (ACI) which evaluates airports' work with handling and reducing their carbon dioxide emissions. The framework has six levels.
The set certification requirements for ACA4+ includes adapting the airport's handling of carbon dioxide to the Paris Agreement as well as an inclusion of further emission sources in the airport's climate footprint that covers all considerable operational emissions from a third party. The emphasis is on creating effective partnerships with airport actors to reduce emissions. The initiated partnership plan that contributes to the change for the airport's partners as well is a prerequisite for the certification.
Six of Swedavia's ten airports have been certified at the highest level, ACA4+; Stockholm Arlanda Airport, Göteborg Landvetter Airport, Malmö Airport, Åre Östersund Airport, Visby Airport and Kiruna Airport. The four remaining airports - Bromma Stockholm Airport, Luleå Airport, Umeå Airport and Ronneby Airport - will be certified according to ACA4+ during 2023 and 2024.
Stockholm Arlanda Airport was one of 17 airports that joined the framework at its start in 2009. Göteborg Landvetter Airport joined in 2010. Both airports were immediatly put in the, then, highest level of the framework, ACA3+ and Swedavia became the first airport concern in the world to become fossil free in their own operation at the end of 2020. Stockholm Arlanda Airport also became the first airport to accept ACI's newly constituted ECO Innovation Award in 2010, a distinction the airport also received in 2021.
- The world's largest energy storage.
Summer 2009, Arlanda opened the world's largest energy storage, a so called aquifer, located in Brunkebergsåsen by the airport. An aquifer is an organic underground groundwater reservoir that helps to cool/warm the airport depending on the season. Because of the aquifer, we are able to save coolness and heating equivalent to the energy needs of 2000 houses.
Read more about the aquifer here (in Swedish).
At Stockholm Arlanda Airport, aviation, culture and nature live side by side. It is therefore important to continuously strive to reduce a negative environmental impact from the airport.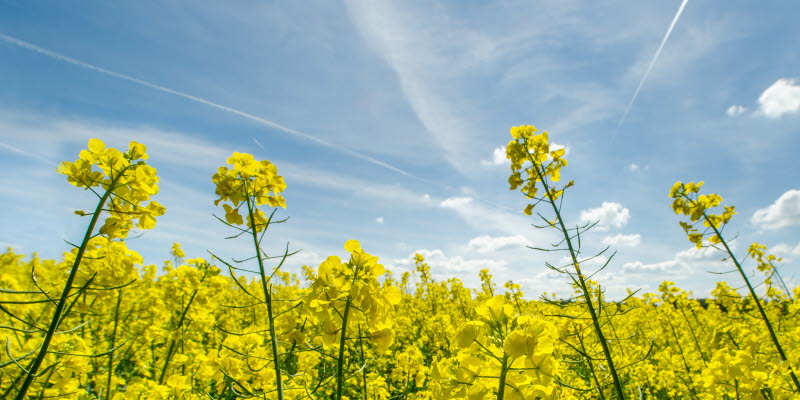 The environment surrounding the airport
Many rare plant and animal species, even from a European perspective, can be found in the area around the airport. This area is also an interesting cultural landscape, with 18th century buildings, rune stones and Iron Age burial grounds.
Pastureland in the hamlet of Lejden, east of the airport, is one example of an area with natural conservation value. Animals have grazed in Lejden's meadows since the Iron Age, and the flora there today include a number of species on the EU Red List of threatened species. Field gentian (Gentianella campestris ssp. fennica) and Eyebright (Euphrasia rostkoviana var. campestris) are two plants under great threat that are found in Lejden.
Lejden is a nature conservation area, created in 2009 by Swedavia in partnership with its tenant, the Municipality of Sigtuna, the County Administrative Board and the World Wildlife Fund.
Reports (in Swedish)
Biodiversity at Arlanda 2013 (pdf)
Inventory report Lejden 2012 (pdf)
Nature inventory 2010 (pdf)
Inventory Eyebright 2011 (pdf)
What flies at Arlanda? 2012 (pdf)
Mushroom inventory Åsbarrskogar 2010 (pdf)
Swedavia has worked continuously for a number of years to limit the impact of aviation noise from Arlanda, which is always an important issue for neighbours and the aviation industry.
Swedavia's goal is to work so that the noise load around Arlanda is considered acceptable relative to the social benefits of aviation and the airport. We make regular noise assessments and measurements to ensure that we are within the scope of our environmental permit.
Swedavia's work to reduce the impact of noise from Arlanda entails, among other measures, insulating homes close to the airport to reduce noise and giving preferred treatment to airlines that use aircraft which produce less noise.
Curved approaches
To the extent possible, Swedavia tries to ensure that flight paths are routed around densely populated areas. To reduce noise and atmospheric emissions, Swedavia also works to increase the number of curved approaches at Arlanda.
Using a curved approach, aircraft can avoid flying over densely populated areas in their approach. Trials using curved approaches are being conducted at a number of Swedavia's airports. To carry out curved approaches, approval is needed from the Swedish Transport Agency for the airline, the individual aircraft and its crew.
Swedavia also works with green approaches – read more here.
Open dialogue and increased environmental awareness
Along with steps to limit noise, measurements are taken and test flights are performed, and there is also a programme for air traffic controllers and pilots to further raise environmental awareness. An open dialogue with Arlanda's neighbours is also an important part of the work, and the airport strives to plan departure and approach routes so that the noise disrupts as little as possible and is as low as possible. Homes subjected to the most noise have been sound-insulated.
Concentrations of air pollutants at Arlanda correspond to levels found in a mid-sized Swedish metropolitan area.
Air pollutants
Measurements of air pollutants have been taken at Arlanda since 1994, and the results show, among other things, that:
amounts of sulphur and nitrogen in precipitation (which contribute to acidification) per area unit at Arlanda are not higher than the average for Stockholm County.
firs and pines at Arlanda lose needles to roughly the same extent as the average for trees in Stockholm County.
concentrations of pollutants are greatest at the terminals and on the roads with the heaviest volume of vehicular traffic.
How air pollutants are spread depends in part on wind direction, wind speed and temperature. It is thus difficult to give an answer for what percentage of emissions affects the different areas.
Emissions from air traffic
Aircraft engines produce the same kinds of emissions generated in the combustion of all fossil fuels: carbon dioxide, nitrogen oxides, hydrocarbons, soot, particulate matter, carbon monoxide and sulphur dioxide. Sometimes the air at the airport may smell strongly of jet kerosene. What makes it smell like kerosene is sulphur compounds, known as mercaptans, which have a penetrating, intense and characteristic smell in very small concentrations. Sulphur compounds belong to the same group of substances that create odour problems in conjunction with paper pulp production (using the sulphate process). Mercaptans are not toxic in the low concentrations found at Arlanda.
Modern planes with less emission are rewarded
One way to reduce atmospheric emissions is by encouraging airlines to use modern aircraft, which are better for the environment – take-off charges are lower the cleaner an aircraft's engines are. The aim is to get airlines with older planes or older aircraft engines to switch to more environmentally-friendly alternatives.
The aircraft's whirlwinds are not fuel dumping
All aircraft leave whirlwinds in their wake. When the weather is humid, the whirlwinds are visible since condensation is formed from water steam in the air. It may sometimes look like the aircraft is releasing fuel as it lands. 'Vortex is another term for the whirlwinds trailing the aircraft.
Aircraft very rarely dump fuel and only in an emergency, when a fully fuelled plane needs to make an emergency landing. Only the largest aircraft have the ability to dump fuel. If fuel needs to be dumped, this should take place over water and at an altitude high enough to enable the fuel to be converted into steam before it reaches the earth.
Swedavia works to achieve a good ecological and chemical balance in the bodies of water that its operations have an impact on.
De-icing of aircraft and runways
Aircraft are de-iced with propylene glycol, and runways are treated with potassium formate to prevent skidding. Potassium formate is a kind of salt and is used instead of urea today since its nitrogen concentration is much lower. Propylene glycol and potassium formate as such have low toxicity levels and break down easily in nature. But this breakdown requires a great deal of oxygen, so the compounds can cause oxygen depletion in waterways and groundwater if large quantities are released. In order to have as small an impact on the water around Arlanda as possible, a number of measures are carried out.
Glycol fluid is recycled after the aircraft's de-icing
De-icing is only allowed in areas with a special glycol recovery system. As much glycol fluid as possible still on the ground once an aircraft has been de-iced is suctioned up by glycol recovery vehicles. Given its relatively high concentration of glycol, the fluid is recycled. The fluid collected is treated and concentrated into new, pure glycol at the Vilokan facility at Arlanda. Fluid with a relatively low glycol concentration not suctioned up runs into the glycol recovery system and is then soon pumped to the Käppala treatment facility.
Most chemical breakdown takes place in the airport's treatment facility
Formate from runway anti-skid treatment and glycol that drips off taxiing aircraft end up in the surface water from the runways and aprons. Most of this is conveyed to surface water treatment facilities, where the chemicals are broken down using biological processes. This is done largely in the airport's treatment facilities before the water is released into waterways.
Samples show improvements in the Märsta river
The water quality of the Märsta river has improved recently, in part as a result of Arlanda's measures to reduce the impact on this waterway. The catchment area for the Märsta river includes the town of Märsta, a number of companies, farms and the airport, all of which have an impact on the waterway. The water quality of the Märsta river has improved over the last few decades, and in the latest assessment the river was classified as having "moderate ecological status" and "does not achieve good chemical surface water status" based on the assessment criteria of the EU Water Framework Directive.
200,000 square metres of membrane protect the groundwater around Runway 3
Runway 3 extends in part over a ridge of stratified sand and gravel that holds groundwater, so it is especially important that glycol and salt residues do not reach it. This was also a high priority when the runway was built. Runway water therefore runs down into drains along the runway and is then conveyed to a retention basin, where it is treated if necessary. A 1.5 millimetre thick water-impermeable membrane has been laid at a depth of 1–2 metres in the area around the ridge. This allows the water along the runway to be conveyed to the runway's treatment system. A total of 200,000 square metres of membrane have been laid out around Runway 3, which is equivalent to the area covered by 28 football pitches.
An analysis at Stockholm Arlanda Airport in 2008 identified the existence of PFAS in, for instance, Halmsjön and Kättstabäcken. Since then, Swedavia has worked to improve the knowledge of where PFAS exists at the airport as well as how it spreads and acts.
Previous use of PFAS at Arlanda
PFAS/PFOS was used at Swedavia's airports in the coat forming fire extinguishing foam AFFF for several years until the beginning of the 2000's, when it was discovered that the substanses could potentially be harmful. In 2008, LFV imposed a ban on practicing with fire extinguishing foam that contains PFAS and in 2011, Swedavia exchanged all fire extinguishing foams with a PFAS free alternative (Moussol 3/6-FF). Because PFAS is a group of stable and non-decomposable substances, the pollution maintains in soil and water where the foam has been used.
Fishing ban in Halmsjön
In 2008, Swedavia (then LVF) imposed a fishing ban in Halmsjön, located in connection to Stockholm Arlanda Airport. The fishing ban was introduced to prevent the public from being exposed to PFAS by eating the fish. Analyses of bass from Halmsjön have shown that the fish contains elevated levels of PFAS. It is still allowed to swim in Halmsjön as PFAS is not absorbed through the skin. The levels of PFAS in the lake water do not present any danger if you take a few involutary gulps of water. The water should however not be used as drinking water.
Action preparing pilot studies
The fire drill site is a big pollution source at the airport. In 2018, a project was started to identify possible methods of action to reduce the spread from the site. The identified methods of action are stabilising surface soil, immobilising the groundwater plume, thermic desorption, soil washing and an expanded phyto extraction. The different studies are evalueted at labratory or pilot scales during 2020-2023. Swedavia sees a further need to purify storm water from the site, which impacts the recipient further downstream. In a parallel project, different purifying methods were evaluated during 2020-2021 for a future treatment facility.
Read more about PFAS and Swedavia's work here (in Swedish).
With the Swedish Supreme Court upholding the Land and Environmental Court of Appeal's ruling on May 25, 2015, Stockholm Arlanda Airport was given a new environmental permit.
Swedavia has prepared a new control programme to monitor the new environmental conditions. The new permit was placed in service on January 1, 2016. The environmental conditions specify, among other things, that the approaches to Runway 3 from the south in heavy traffic which were then in effect could also continue after January 1, 2018.

However, approach procedures that avoid the densely populated area of Upplands Väsby must be used when this is possible, as long as it does not affect the airport's capacity and takes into consideration regulations, air traffic control management, aviation safety and weather conditions.
Read more here (in Swedish):
Application document for new environmental case
Environmental cases and decision processes
Investigations:
Consultation meetings
Application, short version (pdf)
Environmental consequences description, summary (pdf)
Popular version – Arlanda's future affects Stockholm's and Sweden's growth (pdf)
Popular version – Action plan to reduce the noise over Upplands Väsby (pdf)
Presentations from the main negotiation
Mark- och överdomstolen's judgement 21 november 2014 (pdf)
Mark- och miljödomstolgen's judgement 17 maj 2017 (pdf)
Environment and energy policy
Swedavia's environment and energy policy naturally follow the current environmental and energy laws.
Purpose and objectives
Swedavia owns, operates and develops airports and properties near these airports in Sweden. We strive to continuously improve our management system (ISO 14001) to minimize our environmental impact and use resources in a sustainable manner throughout the value chain. This is done
primarily by reducing greenhouse gas emissions, minimizing other atmospheric emissions and discharges to soil and water and minimizing the use of harmful chemicals. We shall even secure effective management of resources in order to contribute to circular economy and continuously work
to improve energy efficiency.
For us, it is a given that we comply with environmental and energy statutes in effect as well as other applicable national and international regulations and requirements. It is also a given that we ensure access to the information and resources required to achieve our environmental and energy objectives
and targets. We shall also work to limit aircraft noise and emissions from aircraft operations.
In order to achieve this, working in accordance with the following
fundamental rules is required:
Environmental concern is integral to every part of operations and is taken into consideration in every decision.
The most important environmental issue for the aviation and real estate sectors is their climate impact, and this must be given priority in decisions and activities.
We shall continuously improve energy efficiency and manage our own operations as well as influence other companies and organizations that we interact with for the sustainable use of resources.
We shall purchase energy-efficient products and services and promote construction that leads to better energy performance.
All of Swedavia's employees shall take part in our environmental and energy work.
We shall assess and manage environmental risks and energy performance in a systematic manner.
Swedavia shall take an active part in local, regional, national and international work in order to reduce the aviation industry's negative impact on the environment and work for the sustainable development of airports.
For information about aircraft movements, Swedavia currently suggests the use of publicly available tools.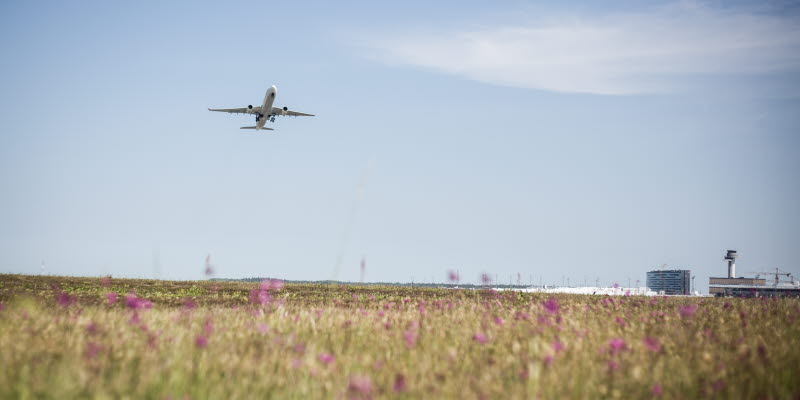 One public tool available for use is Flightradar24.com.
The Webtrak tool that we previously made available here on our website is being reviewed, and we are exploring the possibilities of using other data sources. This is in order to once again enable people living in the vicinity of our airports to track air traffic movements and link this information to aviation noise measurements where available.