Risk for long waiting times at the airport
Right now, there is a risk of long wait times at the airport so we ask that you arrive well in advance when you are taking a flight.
Arrive well in advance – otherwise there is a risk that you will miss your flight. 
Check in from home, if that is possible.
Find out, through your airline, when your check-in/baggage drop opens.
Check what travel documents you need for your destination and have them ready for smoother check-in.
Also check whether your airline/destination requires a face covering.
Pack your hand baggage correctly so that screening will go faster for you and others at the security checkpoint.
Please also note that we have construction under way in and outside Terminal 5, which may affect you when you arrive at the airport.
The safety and security of passengers, employees and partners always have top priority at Swedavia's airports. 
In consultation with the authorities in charge of infectious disease control, Swedavia has ensured that the procedures being carried out at the security control are done so in a safe manner. In addition, other measures being taken include more intensive cleaning of trays and surfaces.
Opening hours
Terminal 5 - Controll D:
Daily from 03.30-20.30
Terminal 5 - Controll F:
Daily from 04.00 and closes until the last departure
Terminal 2:
Daily: 04.00-20.30
Tips before security screening
Come well-prepared so that security screening goes quickly and smoothly. Have your boarding card ready so you can show it.
On the Swedish Transport Agency's website you can read more about what applies to air travel and security checks when traveling from Sweden.
You are allowed to pass the security control even if your gate number has not been announced.
This is what you can bring on board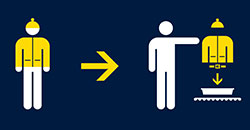 Remove your outer garments, suit jacket, headwear and metal items like belts that have a large buckle or jewellery.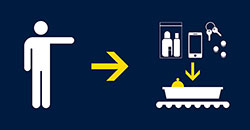 Place your plastic bag with liquids in the tray so it is can be seen. Empty your pockets of mobile phones, keys and coins.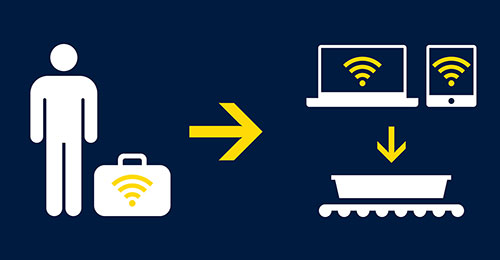 Place large electronic items in the tray so they can be seen. Remove any liquid medicine, special diet food and baby food and show them at the security checkpoint. Sometimes you may be asked to take off your shoes. 
Walk through the metal detector while your hand baggage is passing through the x-ray machine.
Any unauthorised objects found in your possession will be taken from you.