The change is already underway
Most of us now know that most things we do have an impact on the earth's climate. That is also true of air travel. We are thus working within the scope of our mission as mandated by the Swedish State to be an international role model in sustainability. In 2020, the airport operations that Swedavia runs under its own auspices became completely fossil-free. Together with companies and other organisations in the aviation industry, we are working to speed the development of fossil-fuel air transport.
Things are moving in the right direction
Even today, Swedavia is a world leader in developing airports with the least possible impact on the climate, and carbon dioxide emissions from aviation have been reduced by more than 80 per cent in the past 50 years. But we need to do even more. Air transport should make it possible for people around the world to get closer to one another, without this being at the expense of our planet and its inhabitants.
Swedavia is thus working actively with other companies and organisations in the aviation industry to speed up this transformation.
Even now, you can, for example, buy bio jet fuel and reduce emissions from your flight. And in about five years, conditions will be in place that will enable electric aircraft to be used as part of Sweden's domestic air transport.
Everything we do is in line with the Swedish Government's Fossil-Free Sweden initiative, which among other things, aims to make all domestic flights fossil-free by 2030 and all flights originating from Sweden fossil-free by 2045.
If we all help out, we can achieve this even faster.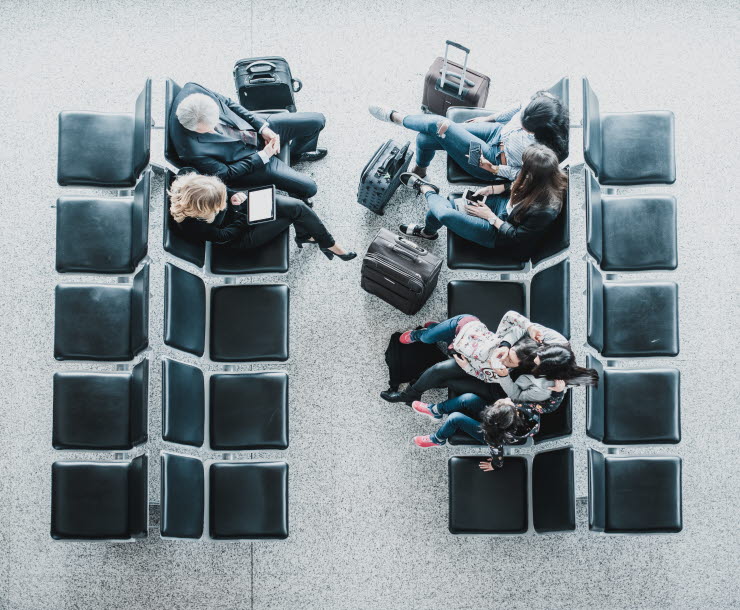 Climate change adaptation is under way now – and it's possible!
Thanks to smaller and quieter aircraft with low operating costs, electric aircraft can operate on routes not served today and where transport by car, bus, rail or boat takes longer. This can create opportunities for a brand-new way of travelling and help increase access in large parts of Sweden.
Swedish domestic air transport accounts for less than 1 per cent of Sweden's total carbon dioxide emissions. International air transport accounts for about 4 per cent – a figure that we obviously must reduce together. Through increased fossil-free fuel use, new aircraft, more efficient flight paths and electric air transport, we will be able to fly more sustainably in the future (source: Swedish Environmental Protection Agency).
Swedish aviation shall be completely fossil-free by 2045 at the latest. It is already possible to fly using fossil-free fuel on today's aircraft (source: Swedish Government report on biofuel in air travel).
In about five years, it should be possible to start using electric aircraft instead of traditional aircraft for one third of Swedish domestic flights (source: Elise).
It is already possible to fly using fossil-free fuel, and large-scale production will be under way in a few years. Once production increases, by-products from Sweden's forestry industry, for instance, could fuel a large part of all Swedish domestic and international air transport.
A number of airlines offer passengers the opportunity to buy fossil-free fuel when they book their ticket. It is then used in aircraft in Sweden, replacing the equivalent amount of fossil fuel. 
There will always be a need to move quickly over great distances, and a desire to meet friends and family who live far away. The aviation industry is undergoing a major transformation right now so that we can fly more sustainably both now and in the future.
Emissions from Swedes' flights have not increased in 18 years, which is largely due to more fuel-efficient aircraft, more efficient ways of flying and higher load factors on planes. According to forecasts, emissions from flights taking off from Swedish airports will be reduced over the next few years (source: Swedish Environmental Protection Agency, Chalmers University of Technology, Swedish Transport Agency).