Major investment in food and beverages at Arlanda and Landvetter
2022-09-27, kl. 12:59
Swedavia continues to develop its range of services at Stockholm Arlanda Airport and Göteborg Landvetter Airport. The new marketplace at Arlanda will open starting in 2023 and is one of the biggest investments ever in food and beverage outlets at the airport. With the investment, Swedavia's partner SSP will launch some 20 well-known food and beverage concepts that are brand-new to the airports. Other operators are expected to gradually set up additional food and beverage concepts.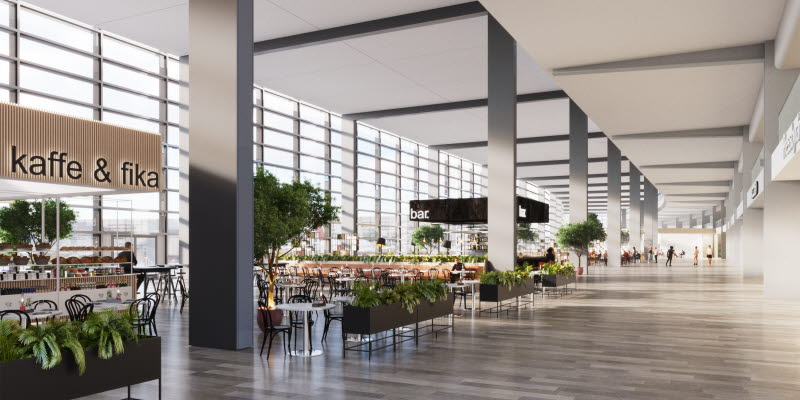 All of the concepts that SSP is launching are brand-new to the airports, and many of them will be part of the marketplace now being built at Arlanda. The marketplace will open gradually, starting in the latter half of 2023. When everything is finished around the turn of the year 2024/2025, the marketplace will offer about 11,000 square metres that will bring together restaurants for different tastes and needs – with everything from fine dining and casual dining to cafés and dedicated grab-and-go outlets.
"We are really pleased that SSP continues to invest in and develop its concepts at Arlanda and at Landvetter. We continue to maintain our long-lasting relationship and now have the opportunity to offer passengers an even bigger and wider variety, but also in terms of prices. There will be something for everyone's budget at our airports. When everything is finished, a modern, vibrant marketplace will create an integrated experience, with enormous scope, that together we can provide to passengers," says Charlotte Ljunggren, Director of Marketing and Commercial Business at Swedavia.
Along with a wide variety of different shops, which will feature both Swedish and international brands, as well as spaces for advertising and events, the marketplace will be a real boost for passengers. It is one of the biggest investments ever in food and beverage outlets at Arlanda.
The casual dining concept Eatery Garden will be one of the new outlets. With its wide variety of dishes, it is a concept that will appeal to many different passenger groups, such as families with children and passengers travelling in larger groups. Eatery Garden is also the outlet after the security checkpoint that will be open around the clock seven days a week.
The food court Sky Market has also been designed to meet the changing needs of passengers and will enable them to choose from a number of different international food options, from the Mexican-inspired Taco Bar to the spicy Middle Eastern restaurant Meze Fabriken. With its robust range of grab-and-go products, Sky Market will provide an attractive offering to a broad target group.
SSP will also introduce Jureskogs as the fast food concept of the future for passengers at Arlanda. Jureskogs itself wants to change people's view of fast food and, with its focus on animals, the environment and people's health, will offer "fast food but not junk food".
At Landvetter, SSP will open Bastard Burgers, a premium hamburger concept found in many places across Sweden. SSP has also developed a new café concept for the airport called Fika, which has been designed to spotlight Swedish café culture, with the outlet's assortment and décor both reflecting Scandinavian flavours and Scandinavian design.
"The story of SSP began in Scandinavia as far back as 1961, which means these new investments in Stockholm Arlanda Airport and Göteborg Landvetter Airport will be an especially happy new page in our story in this important region. Over the decades, we have developed a strong relationship with Arlanda and Landvetter. Because of that, we can really understand Swedavia and their passengers' needs and create a food and beverage offering that will appeal to people both now and in the years ahead," says Björn Olsson, Managing Director for SSP's Sweden division.
Brands that SSP will introduce at Stockholm Arlanda Airport are:
Jureskogs
Upstairs & Bar
Cornelius Coffee
Barino Café
Barino Restaurant
Take Away Mart
Hawaii Poké
Eatery Garden
Craft n' Draft
Panini Internazionale
Taco Bar
Meze Fabriken
Pong Express
Read more about all the new shops and restaurants at Arlanda.
Brands that SSP will introduce at Göteborg Landvetter Airport are:
Bastard Burgers
Fika
Barino
Bistro & Bar
Cornelius Coffee
Read more about all the new shops and restaurants at Landvetter.