Contact us to receive help and for answers to the majority of questions concerning the airport and your trip.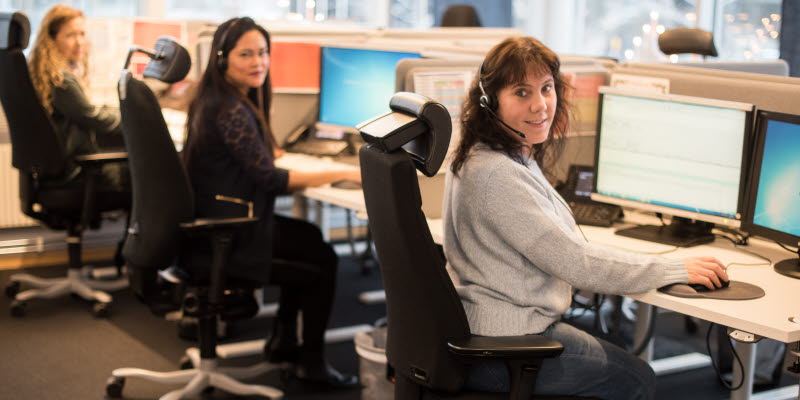 Swedavia AB
The content of Swedavia AB (Swedavia) website is presented solely for information purposes. The terms and conditions below apply to all users of the website www.swedavia.se – including but not limited to;
www.arlandaairport.se
www.brommaairport.se
www.ostersundairport.se
www.kirunaairport.se
www.landvetterairport.se
www.luleaairport.se
www.malmoairport.se
www.ronnebyairport.se
www.umeaairport.se
www.visbyairport.se
and mobile applications for iPhone and Android and all future online media.
Property rights
Swedavia has the ownership to all data contained on the above mentioned media, unless otherwise stated. Intellectually protected property may not be distributed, modified or forwarded without the prior written consent of Swedavia. All enquiries in this regard should be sent to produktion@swedavia.se.
The above applies to textual, photographic, audio, video and other material protected by intellectual property rights.
Limitations on information provided
The information is provided "as is", and Swedavia makes no representations or warranties as to the completeness, accuracy, availability and functionality of the information.
Disclaimer of liability
Swedavia shall not be liable for any direct or indirect damages or injury arising out of your access to, or inability to access, this website, or from your reliance on, and actions in accordance with, the information on this website. This limitation includes any damages or viruses that may affect your computer equipment or other property as a result of accessing or using this website.

Any links to other websites are provided solely as a service to users. Swedavia has no responsibility or control over the content or operation of such sites, and shall not be liable for any damages or injuries arising from such content or its operation.

Swedavia reserves its right to alter, modify, substitute or delete any part of the content, and may restrict access to, or discontinue distribution on, this website at any time and at its sole discretion.
Communication
Any comments or materials sent to this website or otherwise to Swedavia regarding this website will be treated as non-confidential and may be used without any limitations or payment by Swedavia, and shall be considered its property upon receipt.
Personal information
Personal information, including but not restricted to names, addresses, telephone numbers and e-mail addresses sent to Swedavia, will be processed in accordance with the Swedish Personal Data Act (Personuppgiftslagen (1998:204)).
Cookies
Swedavia website uses cookies. A cookie is a text file stored on the computer of anyone visiting a web site. It is being used for purely technical purposes to adapt the web site for the benefit of the visitor. On our web site only so called session cookies are used, which are merely used during an individual visit to the web site and which disappear when the visitor turns off the web browser.
The purpose of using session cookies on the web site is to facilitate the filling in of forms and logins on the site.
If you do not wish to accept cookies, your web browser can be set to automatically deny storage of cookies or to inform you each time a website requests storing a cookie. Previously stored cookies can also be deleted through the web browser. Please see the help pages of the web browser for more information.
Swedavia update
If, at the time of your declaration of consent, you have provided your telephone number, you may also receive offers, marketing information, travel information and news bulletins via SMS. Otherwise, you will receive this information solely by e-mail.
Exchange rates
Prices in foreign currency are calculated and therefore indicative.
Disputes
Disputes concerning the application of interpretation of these Terms and conditions and legal matters pertaining thereto shall be heard in a Swedish court.
Governing law
These terms and conditions are governed by Swedish law.
Amendments to terms and conditions
Swedavia may amend the above terms and conditions at any time by updating this page. Any person who accesses or visits this website accepts the above terms and conditions, and is therefore recommended to regularly read through the terms and conditions that apply at any time.