By buying renewable jet fuel or carbon-offsetting your flight, you help reduce carbon dioxide emissions and make an important contribution to help tackle climate change.
Buy renewable jet fuel
By purchasing renewable jet fuel for your flight, you can reduce the climate impact of your air travel by up to 80 per cent.
As a passenger, you can buy renewable jet fuel through the Fly Green Fund. You can purchase it for the whole trip or part of it. Either way, you make an important contribution to help the climate.
As a private individual, you can pay using the Swedish app Swish. If you are a company or government agency, you can sign a long-term agreement.
Read more here about how you can buy your bio jet fuel and fly fossil-free.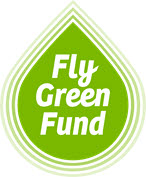 Did you know that Swedavia is a world leader in operating climate-smart airports?
Here you can read more about the climate work of Swedavia and the air travel industry.
Carbon offset
Buying a carbon offset is a good way to take responsibility and manage the impact of greenhouse gas emissions on the climate. You can calculate the climate impact of your flight and pay to offset it here.