Get married or renew your vows at the airport. With our wedding package, you can relax and let our VIP Service take care of all the practical details.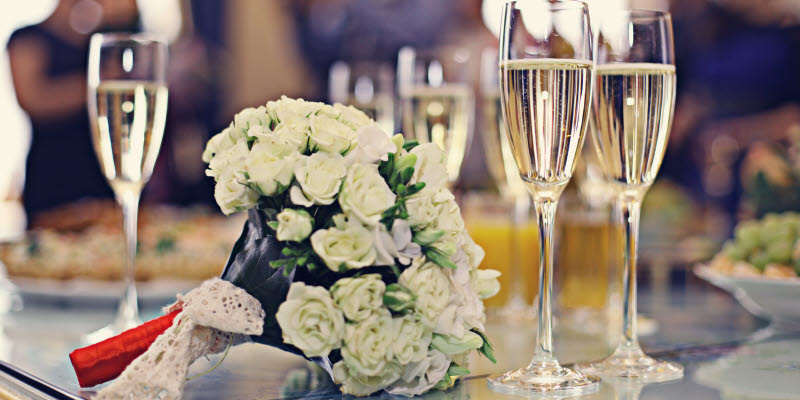 A representative from Luleå Airport will meet you at the agreed time at the information desk. You will get help with your baggage, tickets, passport and the check-in procedure for you and any children accompanying you. After this, you will be conveyed to the VIP room, where the actual ceremony will take place.
You can then take your time to enjoy the peace and quiet with some refreshments. Naturally, friends and family are welcome to attend – a maximum of eight guests are allowed in the VIP room.
What does it cost? 
The wedding package includes:
The VIP room for two hours. 
Help with check-in for the wedding couple's baggage and any children
Passage through the security checkpoint for the wedding couple and any children
If necessary, we can help arrange witnesses
Up to ten people, including the wedding couple, are welcome
Parking for one car for a maximum of two weeks
Price: SEK 3,300 including VAT.
What to keep in mind before you book a wedding
Book well in advance so that you have time to obtain your certificate of no impediment. 
Booking a marriage officiant
You are responsible for booking the marriage officiant, but feel free to contact the airport if you would like to know what marriage officiants have permission to perform a marriage at Luleå Airport. If you have your own contacts or wishes, this is also possible.
Marriage officiants in Norrbotten County
Food and drinks
Order your food and drinks at the latest ten days prior to your wedding. You may not bring your own food or drinks. We help you with an offer.
Other services
Storage of baggage
Photography – someone from Airport Services will be happy to take pictures with your camera
Help with witnesses. Let us know what your wishes are when you book
Payment
Payment is made at the airport information desk on the wedding day. Payment is by cash or card.
Throwing rice
We would appreciate it if you inform your guests in advance that throwing rice, flower petals or the like is not allowed on Luleå Airport's premises.
Book
Telephone: +46 (0)10-109 49 50 Monday–Friday 9:00–16:00
E-mail: luleaairport@swedavia.se